---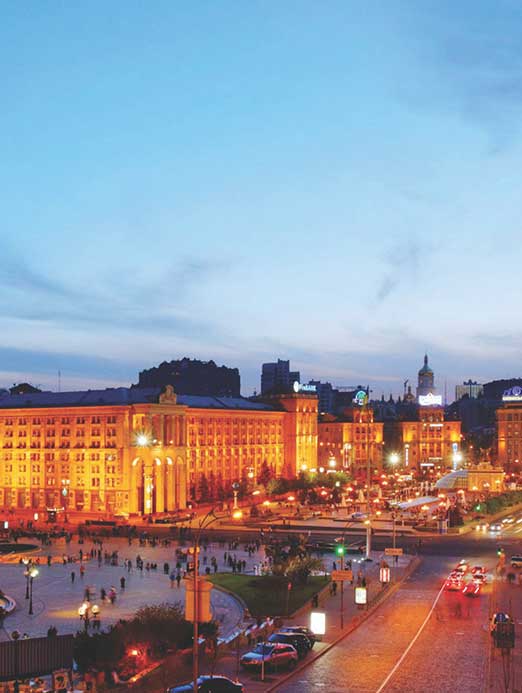 ---
---
Ukraine is definitely a destination to be discovered. It is the largest country in Europe with 0.41% of the world's territory and 0.85% of the world's population. It borders the Russian Federation, Belarus, Poland, Slovakia, Hungary, Romania and Moldova, with the Black Sea and Sea of Azov to the south.
Ukraine has a well-developed industrial base and rich farmlands. The main exports from Ukraine are crude oil, ferrous and nonferrous metals, chemicals, machinery, fuel and petroleum products, transport equipment and food products. Ukraine is a place with fabulous nature, architectural landmarks and golden-domed churches. It has mountain ranges – the Carpathian Mountains are good for skiing, hiking, fishing and hunting. The coastline on the Black Sea is a popular summer destination for vacationers. Today, Ukraine is a cradle of well-wishing people and a country of sunflowers and endless blue skies
We offer scholarships for outstanding students
Ukraine at a glance
---
Location: Central-Eastern Europe, part of the East-European plain, between 44"20' and 52"20' N and 22"5' and 41"15' E.
Language: Ukrainian, Russian & English
Religion: Christianity
Capital: Kyiv
Independence: August 24, 1991
Currency: Ukrainian Hryvnia(UAH)
Area: 603 700 km²
Population: 43,847,593
Climate: Moderately Continental
Best time to visit Ukraine: Summer, late spring and early autumn.
Average winter temperature is from -8° to -12° C In the Southern regions average winter temperature is 0° C. Average summer temperature is from +18° to +25° C, although maximum temperature can be more than +35°C.
International phone code: +380
---
Why MBBS Admission in Ukraine?
Ukraine MBBS education has gained a leadership position in terms of its international recognition, world-class education and low-cost tuition fees for MBBS. The main reason for seeking admission to MBBS in Ukraine is to focus on individual learning and create an ideal balance between theoretical and practical knowledge. The course fees and cost of living are very affordable in Ukraine for Indian students.
The quality of MBBS in Ukraine is very high. No TOEFL or IELTS is required in Ukrainian Medical Universities. Medical Council of India (MCI), UNESCO, WHO, FAIMER, etc. recognize Ukrainian MBBS degrees. Candidate with a Ukrainian MBBS degree is eligible for the MCI Screening Test, PLAB (UK), USMLE (USA), and other International Licensing Exams. The medium of education for MBBS in Ukraine in English.
---
Advantages of studying MBBS in Ukraine
---
Ukraine has an education system on par with other European countries. The Ukrainian government supports and allocates special funds to medical colleges and universities. Despite world-class medical education, fees in medical universities of Ukraine are very low compared to other European countries and India. You can secure an MBBS seat at a Ukrainian university on a first come first serve basis. Ukrainian medical universities organized various seminars, workshops and extracurricular activities to keep students physically and mentally fit. Medical students are also motivated to participate in workshops and international meetings so that they can experience global exposure performance. The Ministry of Education and Science of Ukraine controls all medical colleges in Ukraine. And, these medical universities provide the best medical education and ensure the best results for MBBS students. Ukraine has excellent weather condition that suits Indian students perfectly. MBBS in Ukraine comes under the "Bologna Agreement" which enables medical students to pursue higher education anywhere in Europe. Medical students enrolled in Ukrainian medical universities are also eligible for various opportunities, including scientific conferences, international student exchange programs, and more. Indian students can apply for a job in Ukraine after completing their MBBS or MD degree as MCI approves Ukrainian medical degree.
MBBS admission process in Ukraine
Step 1: Our consultants assist you in researching and selecting universities. Thereafter applications for admission to MBBS in Ukraine are applied to medical universities.
The documents required to apply MBBS in Ukraine are:
10th mark sheet (scanned copy).
12th mark sheet (scanned copy).
School Leaving Certificate (scanned copy).
Copy of passport.
Step 2: First, the application made by the student in Ukrainian Medical University is accepted. And then, the university issues a letter of confirmation of admission.
Step 3: The student receives a confirmation / offer letter. The fee is then paid.
Step 4: Pay MBBS fee, apply for student visa.
Step 5: Finally, get a visa!
Step 6: Also, book your tickets for Ukraine and fly!
Step 7:Our team stays at Indian Airport to assist you and another team welcomes you to Ukraine, this team takes you to the hostel where Indian food is served by bus from Ukraine Airport.
Note:
Apart from these documents, each college may have its own individual requirements.