Want to study MBBS in Ukraine and get admission in top Medical Universities of Ukraine in 2020, You are in a right website where you will know MBBS in Ukraine Fee, MBBS Universities, Ukraine medical universities ranking, eligibility criteria for Indian student for admission in Ukraine, which is the top universities in Ukraine for MBBS 2020 etc.
Full information about MBBS admission in Ukraine. Ukraine Medical Universities are famous worldwide for their quality medical education and low MBBS fees. There are many top medical universities in Ukraine like Kharkiv National Medical University (KNMU), Poltava State Medical and Dental University, V.N. Karazin Kharkiv National University, Kyiv Medical University of UAFM, Taras Shevchenko National University, Bogomolets National Medical University, Danylo Halytsky Lviv National Medical University, Vinnitsa National Medical University, Dnipropetrovsk State Medical Academy, Ternopil State Medical University, Zaporizhzhia State Medical University, Petro Mohyla Black Sea National University, Ivano-Frankivsk National Medical University, Bukovinian State Medical University (BSMU), Kharkiv Institute of Medicine KMU in all these universities local students, as well as international students like Indian students, study MBBS in Ukraine. Top Medical Universities in Ukraine are recognized by MCI, WHO, and UNESCO. Ukraine is ranked fourth in Europe for the largest number of postgraduates in the field of medicine.

MBBS in Ukraine
The hot topic today, MBBS in Ukraine, Ukraine is becoming very popular among international students for the cost of MBBS in Ukraine or Fee of MBBS in Ukraine and due to Ukraine's world-class MBBS education standards, there is a steady increase in the number of Indian students in Ukraine who want to study MBBS. There are many world-class MCI approved medical universities in Ukraine that offer MBBS, MD and other degrees in medicine at a very affordable fee structure.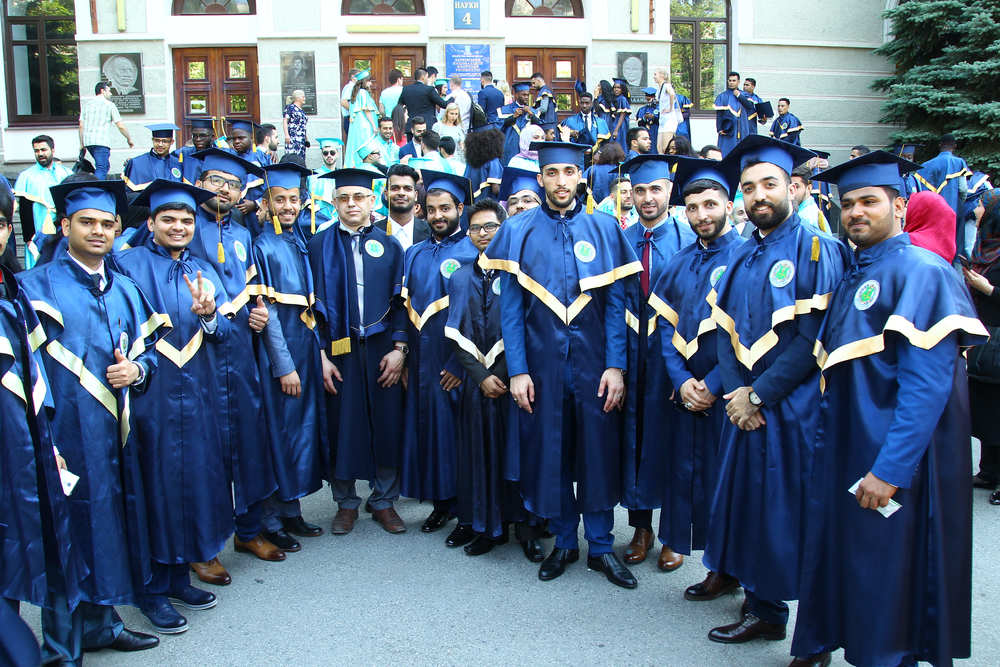 MBBS admission in Ukraine has many advantages like Ukraine medical college fees are low, option to get admission in the medical university in Ukraine is wide, one of the most important advantages of pursuing MBBS in Ukraine for Indian students is that students who complete their MBBS or any other medical degree from the Medical University of Ukraine can apply for a job in any part of the world, so we can say as a job prospect and work opportunities Ukraine is considered as the best country to pursue your MBBS study abroad.
Duration of MBBS in Ukraine
So what is the duration of MBBS in Ukraine, is the same as Indian MBBS education system:
The entire duration of the MBBS program in Ukraine is 5.8 years. although years are longer, MBBS fees in Ukraine is affordable.
During the MBBS program, students study for a period of 5 years at their chosen medical universities in Ukraine.
The 5-year is dedicated to classroom education of medical students with quality education provided by specialist faculties.
If students wish, they can return to India for a 1-year internship program.
Indian students can do a 1-year internship in Ukraine and after doing so there is no need to do an internship in India.
Top medical university in Ukraine
This is the most common question which our admission consultants used to hear from students, the most popular and best medical universities in Ukraine are listed below:
MBBS teaching medium in Ukrainian medical universities
Every year thousands of students take admission to study MBBS in Ukraine. There are various top medical universities in Ukraine that are giving admission to students who wish to pursue MBBS and MD courses in Ukraine. To study MBBS from Ukraine, medical students come not only from India but also from Nepal, Pakistan, Sri Lanka, and Bangladesh. Candidates applying for medical education in Ukraine have confusion about what will be the medium of teaching in the respective medical universities. Medical universities in Ukraine are adopting English as a medium of education. Students are not required to learn Russian or any other language to study MBBS in Ukraine. The reason for this is that medical universities in Ukraine follow all English language instructions. All the professors are proficient in English and they help all the foreign students if they are facing any issues in following the syllabus. Students should be eager to see the medium of teaching when applying to any medical university.

Why study MBBS in Ukraine?
The Ukrainian government is very interested in the improvement and development of medical education in the country. Best medical universities in Ukraine receive constant help from the Ukrainian government to maintain the level of education and low fees structure. Students who graduate from a Medical University of Ukraine can work anywhere in the world. These are some of the factors that attract foreign students to obtain their MBBS degree from Ukraine:
The class of education, teaching standard, and infrastructure in medical colleges in Ukraine are very good.
Government is always keen to help universities to solve research and financial issues in education.
MBBS fee structure and living costs are very low in Ukraine.
There is no need to pay any donation by the student to get admission in a medical college in Ukraine.
Many extra-curricular and sports activities are organized from time to time in Ukraine's medical colleges which are very important for the overall development of students.
Universities of Ukraine encourage students to participate in seminars and international conferences.
The Ministry of Education and Science of Ukraine manages all the medical universities of Ukraine. Medical Universities of Ukraine provide better opportunities for medical education in Ukraine to students around the world in terms of infrastructure, quality and lower fees.
Advantages of MBBS in Ukraine
Ukraine has become the most preferred country for aspiring Indian students who wish to study MBBS outside India. Some advantages in Ukraine are listed below:
Medical studies in Ukraine are safe. Medical universities of Ukraine are recognized by the Medical Council of WHO, UNESCO, MCI, and many other countries.
MBBS in Ukraine is available in English medium for Indian students.
The cost of living in Ukraine is very low compared to many European countries. Another advantage of doing MBBS in Ukraine is that it is very cheap for students to travel in Ukraine and students get special discounts for travelling within the country.
Medical colleges in Ukraine provide high-quality education to students.
Students studying MBBS in the best medical universities of Ukraine are offered various opportunities to participate in international exchange programs, conferences and other scientific projects in various international universities.
Indian students who have completed MBBS from the Medical University of Ukraine can easily get a job in India as an MBBS degree obtained from Ukraine University is recognized by the Medical Council of India (MCI).
MBBS in Ukraine eligibility
The process of getting admission in a medical university in Ukraine is very simple, for admission in Ukraine, Indian students do not need to pass any entrance exam., such as TOEFL or IELTS, to gain admission to a medical university in Ukraine. For admission to MBBS in Ukraine, the student must meet the following criteria:
The student must complete 17 years of age on or before 31 December of the year of admission.
Candidates should get 50% marks in class 12 from the Science stream (Physics, Chemistry, and Biology) in CBSE / ISC or any other equivalent board examination.
As per the decision was taken by the Delhi High Court, according to the latest notification issued by the MCI, students are willing to enroll in foreign medical universities in 2019, and do not qualify / register / attend NEET-2019; One should produce eligibility