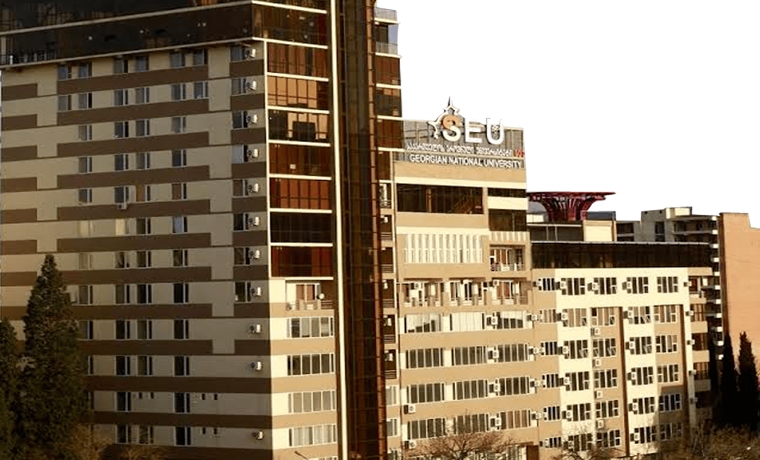 MBBS in Georgia, in recent years, Georgia has developed as one of the most preferred international destinations for MBBS studies among Indian students. Since there are no barriers to entrance exams and recognition by the National Medical Council, NMC, students are more prone to travel.
Georgian National University SEU is a private institution located in Tbilisi, Georgia. The University was established in the year 2001. The University offers a wide variety of courses in the English language which attracts undergraduates, graduates, and aspirants wanting to do doctoral courses from all over the world. The mission of the SEU Georgian National University is to create a modern university atmosphere which will enable students to actualize their opportunities, offer modern knowledge in the Georgian educational setting and on success-oriented academic foregrounding raise national awareness in the process of building civic society.
Eligibility Criteria
12th Class Eligibility

Open Category: 50% in PCB (physics/chemistry/biology)
Marks: 150/300
Reserved Category: 40% in PCB (physics/chemistry/biology)
Marks: 120/300

NEET Eligibility

Eligibility Compulsory
Open Category: 50 Percentile – 131/720 (As per 2019 score)
Reserved Category: 40 Percentile – 107/720 (As per 2019 score)
Admission Process
The students who seek to get MBBS admission need to follow the mentioned below steps:
Step 1: Candidates must submit a well-filled application form.
Step 2: Submission of educational certificates and other essential documents required for MBBS admission.
Step 3: Admission will be based on merit and performance during the interview.
Step 4: Candidates will get an offer letter from the university within a couple of days.
Step 5: Pay the 1st-year tuition fee for the MBBS course.
Step 6: Apply for the visa procedure.
Step 7: After completing the visa processing time, get a valid passport and fly for your dreams.
Students must bring the original documents during MBBS admission process:
Candidate must submit the application form.
Candidates must have a NEET-UG examination scorecard along with the admit card.
The academic mark sheet and passing certificate (original and copy).
The candidate must carry a transfer certificate / leaving certificate from the previous institution.
Foreign students must have a valid passport.
Birth certificates must be submitted during admission required for proof of date of birth.
Provisional allotment letter generated online
Candidates must submit caste certificate and validity certificate. (SC/ ST/ OBC category candidates)
Submit your ID proof during admission time (Aadhaar card/ PAN card/ driving license/ passport)
Conduct and character certificate
Candidates should submit the medical certificate.
Carry passport-size photographs required for MBBS admission.
Proof of nationality of India / Passport/domicile/nationality certificate
Passport size photographs
Demand draft
Gap certificate (Affidavit) (if applicable)
Migration certificate (if applicable)
Advantages
The Georgian medical universities are MCI (Medical Council of India) & WHO (World Health of Organization) approved.
Georgian medical degree is globally recognized
To study in Georgia there is no need to pay any donation or capitation fee
No separate entrance test will be conducted by the university
The standard of living is very high in Georgia
Students do not require to appear for IELTS/TOFEL to take admission in Georgia
We provide Indian Mess for our students in Georgia
Indian Food & Indian Restaurants are also Available in Georgia
They provide world-class education, which will help to build your career.
They maintain their quality of education
Tuition Fee is affordable in Georgia
To help our Indian student university have Indian teachers also in Georgia.
We provide a separate hostel for Boys & Girls for their safety.
During their study Students can also prepare for USMLE.
Most of the hospitals of Georgia use the latest technology so students will get the opportunity to learn new technology.
There are some Universities in Georgia, which provide scholarships for students.
Georgian National University SEU provides excellent academic facilities at less price without hidden charges.
The medium of teaching is English and Georgian language.
The university is fully recognised by MCI and WHO.
The university provides accommodation facilities occupied with all amenities required for the living of the students.
The admission process is simple
The advanced study curriculum of the university is designed according to international standards.
The university comprises 97 assistant professors and 133 faculties guiding worldwide medical aspirants.
The university conducts educational activities for medical students.
The university is in collaboration with Georgian and higher institutions.
Creates favourable conditions for students with disabilities.
The medical aspirants don't need to appear for any English proficiency test or any entrance exam for doing MBBS in Georgian National University SEU.
Benefits of MBBS in Georgia
Top 10 safest countries in the world.
100% Visa Guarantee
Indian Food/Hostel available
Studying in the English language
WHO/MCI approved University
Higher Success in MCI/USMLE test
Send Enquiry

NEED HELP WITH ADMISSION?
Get free counselling sessions with us.