---
---
MBBS admission in Ukraine - 2020 - 21
---
Getting MBBS admission in Ukraine is very good option for Indian students who want to pursue their medical study abroad. For MBBS education Ukraine offers many top-ranked medical universities with low fees structure & high-quality education. The complete duration of an MBBS program in Ukraine is 5+1 years. The students are not required to pass any entrance examination to get admission in a medical university in Ukraine. You will find the answer to all the questions related to MBBS admission in Ukraine on our website, Indian students wishing to do MBBS in Ukraine want to know cost of MBBS in Ukraine, what are the top medical colleges in Ukraine. Are studying MBBS in Ukraine a better option for Indian students?
On our website, we have provided information about the Ukraine MBBS fee structure, also provided a list of MCI approved medical colleges in Ukraine and what are the requirements of eligibility to do mbbs in Ukraine for Indian Students.
You can also call us on +91 9193910091anytime and get answers to your questions. Our Counselors are always ready to help you.
---
---
MBBS Admission in Ukraine
---
No TOEFL/IELTS
EU MBBS allows Indian students to study MBBS in top Ukrainian universities without any exams.
Recognition of MBBS
MBBS course are approved by MCI, WHO, FAIMER, Ministry of Education Ukraine.
MBBS in Ukraine
High quality of european education, easy admission process and the lowest tuition fees in Europe.
---
Welcome to
EU MBBS
---
MBBS in Ukraine is a great option for Indian students, but the decision to study in a country where you have never been is sometime difficult. We assure you that our team at European Educational Consultants is with you in this important step of your life.
EU MBBS helps Indian students to apply and study MBBS in top Ukrainian medical university. We help Indian students to choose one of the top medical university of Ukraine to pursue MBBS. We assist students in documentation for getting student visa. Our hospitality team provides excellent accommodation (Hostel) facilities for Indian students studying in Ukraine. Indian food is also served by Indian chefs in our mess.
Medical education in Ukraine is one of the best in the world. It is also recognized by many important organizations such as World Health Organization, Medical Council of India, FAIMER and UNESCO. All subjects, including medical courses, are taught in English. You will be allowed to use state-of-the-art training and research facilities. The latest advanced labs, teaching aids, tools, simulators and specialist libraries paired with your lectures will help you make your dream come true.
If you have any questions related to medical education in Ukraine, you can contact us at any time. Our Counsellors are always ready to help the students.
Top Medical Universities in Ukraine
Why MBBS in Ukraine?
---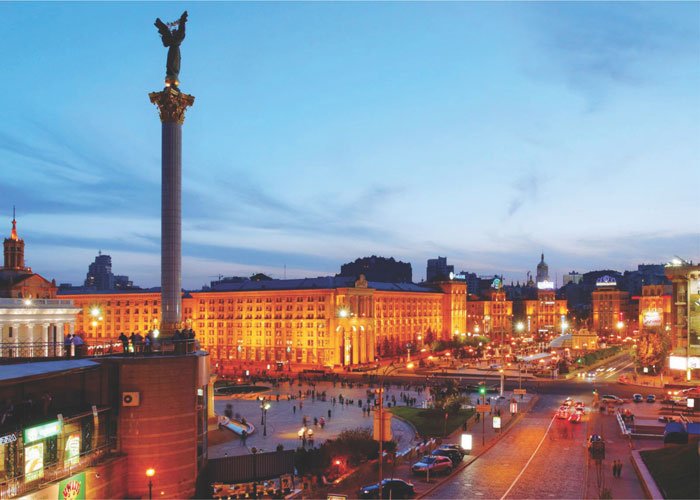 The total tuition fee for MBBS in Ukraine is low and affordable for Indian Students.
The standard of education in Medical universities in Ukraine are excellent and the teachers/lecturers here are highly qualified and leaders in their field.
More than 10,000 Indian students are currently studying in Ukraine. There is a big Indian community at Ukraine.
Hostel facility is provided by the university itself, We also have our own hostels in Ukraine.
Indian mess is available to the students which provide both veg and non-veg food.
Cost of living is affordable in Ukraine.
Various Indian cultural activities take place in Ukraine including the biggest Holi celebration in Ukraine and fresher's party is also organized. Most of the Indian festivals are celebrated here and thus the students don't feel that they are away from India.
You don't need to appear for any admission test such as IELTS or GMAT for admission in Ukraine. However, qualifying NEET is compulsory for MBBS admission in Ukraine.
The degree awarded by the Universities listed on our website are Globally recognised by international Bodies and organisations most of them are recognized by Medical Council of India (MCI), World Health Organisation , FAIMER, UNESCO and AMEE.
The students who have completed their medical degrees from Ukraine are eligible to apply for International Licensing Exams like MCI Screening Test, USMLE (USA), PLAB (UK), as well as other licensing exams taking place throughout the world.
Guest lecturers/professors and visiting faculty of the Universities in Ukraine include globally acclaimed teachers and working professionals who are able to share their knowledge and experience with the young minds.
The medium of instruction is English for the entire course.
Studying MBBS in Ukraine provides a gateway to other European Countries as it has bilateral student agreements in place with countries such as Finland, Sweden, Czech Republic and others thus making it easier for students to study in other European nations.
The Faculty to Student Ratio is about 1:14 – Small class size ensures that Students get individual attention.
---
Our Services
Free Counselling
EU MBBS has a team of trained and expert counselors, who provide help to identify the professional goals, enabling the student to take a wiser academic decision
University Selection
EU MBBS counselors help you to select the right University across the world according to the need and requirement of the student.
Documentation Assistance
EU MBBS assists you completely with all types of docementation process like passport, educational loan, legalization of documents, and VISA assistance.
Pre-Departure Guidance
We arrange a short get together of students and parents before the departure. In this session, they get to know about the ins and outs of the respective country and traveling guidelines.
Forex Assistance
We assist our students in getting currency exchange. We make sure that our students get the best possible exchange rate.
Read More
Admission Process
The admission procedure is simple, there are no entrance exams and cut off marks, there is no reservation policy on the basis of caste, creed, and color. The students will have just to fulfill the basic eligibility criteria. In Ukraine, the cost of medical education starts from Rs. 2.70 lakhs per year that includes tuition fees. We have different packages available for furnished hostel accommodation, food and study material, which students can decide later.
Medical Education in Ukraine
---
Medical education still remains to be a dream for many students in India due to its high cost and rigorous academic competitions.
There are many international students from around the world, including China, India, Europe, and Africa, who have made the decision to study in Ukraine. This is not surprising since the standard of higher education meets the same standard as in Western countries to give them an enriching foundation for their future. The student-teacher ratio is 10:1 and individual attention is given to each and every student. It is very unique because nowhere in India we have this kind of facilities.
---
Facts about MBBS / MD in Ukraine 2020
*Common standard that can change depending on the person's choice