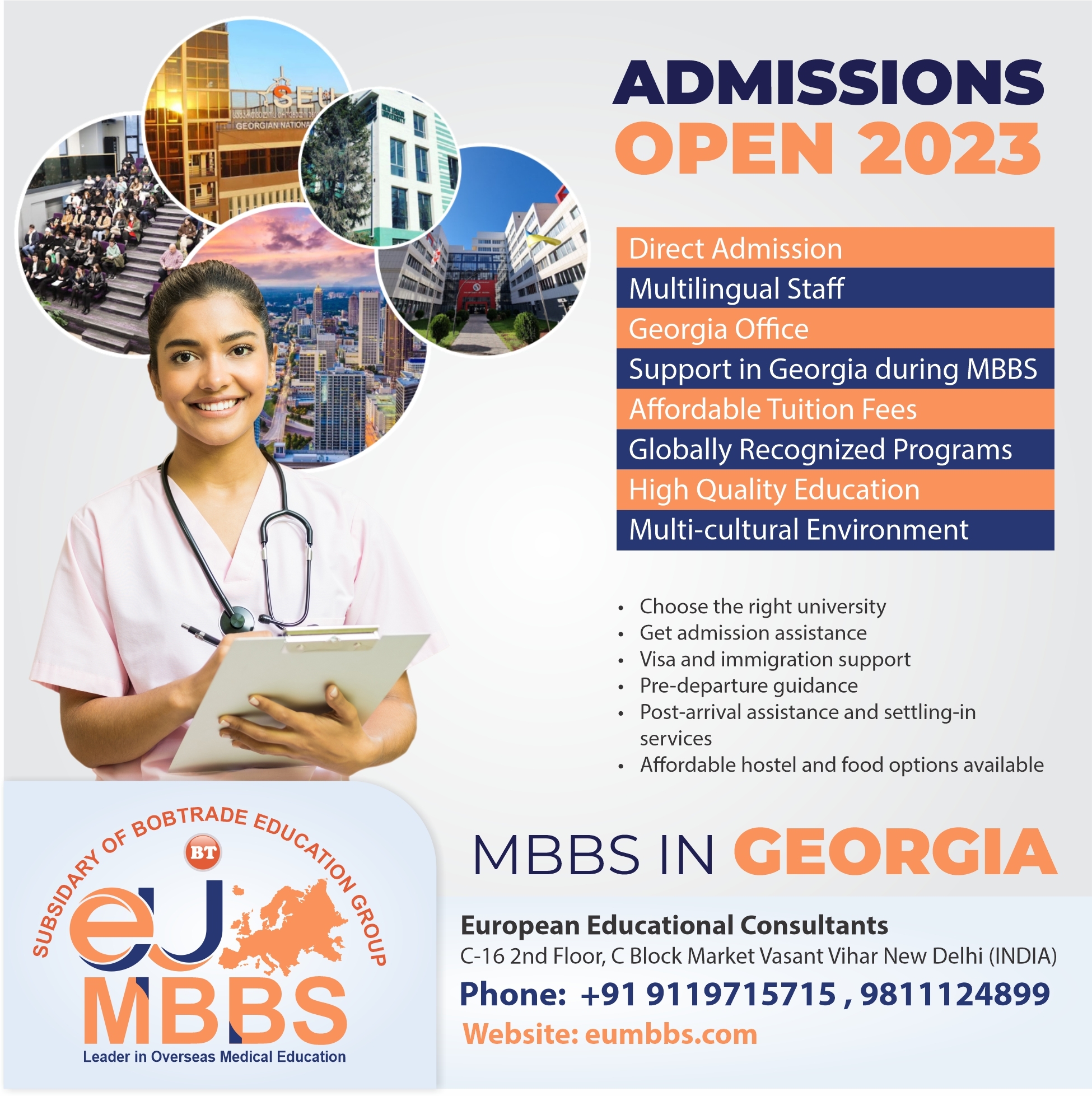 MBBS in Georgia, Admissions
'MBBS in Georgia' has always attracted Indian students. Georgia is the most popular destination for medical education abroad. Georgia's MBBS provides world-class research facilities, quality education, and cross-cultural experience. Studying 'MBBS in European Countries has always proven to be the best for Indian students, and Georgia is renowned worldwide for its medical education.
Each student studying medicine wishes to add an international degree to their curriculum vitae. For students wishing to study MBBS in Europe, Georgia's MBBS is worth noting.
At the intersection of Europe and Asia is the small nation known as Georgia. Georgian medical colleges are regulated by India's Medical Council (MCI), the World Health Organization (WHO) and other scientific bodies. Georgia's medical schools deliver the highest facilities and international medical education quality.
Georgia's Ministry of Education and Science accredited major Georgian schools, colleges, and universities. MBBS in Georgia is also known among medical students for its low-cost medical education. For Indian medical aspirants, MBBS in Georgia may be the right option.
MBBS in Georgia – At a Glance
The table below lists Georgia's significant MBBS course highlights:
Basic Eligibility
60% in PCB for General at 10+2 Science
40% for SC/ ST or reserve categories
NEET Exam
Required, it is compulsory with qualifying marks.
IELTS and TOEFL
Yes, required.
Course Duration (In Year)
5 + 1 year Internship
Medium of Education
English Language
Top Medical Universities
Akaki Tsereteli State University
Tbilisi State University
Recognition of Universities
MCI, WHO, WFME & many more
Benefits of Studying MBBS in Georgia
WHO and UNESCO recognize Georgian medical universities.
Students pursuing MBBS in Georgia can have the opportunity to do studies and clinical clerkships from 1st semester onwards. This would also develop student skills.
Students get many best internships or further studies within the country itself.
Georgia's universities are well-equipped with technology and infrastructure.
All medical universities in Georgia provide students with very good accommodation facilities and make Indian food conveniently accessible to students.
MBBS admission in Georgia is actually a very inexpensive choice for Indian students, as many universities in Georgia offer low-cost MBBS.
Georgia is completely healthy. Students can ride conveniently in public transport like buses, trains, etc. without any problems.
MBBS admission in Georgia is very easy. MBBS admission is based on 12th standard score in physics, chemistry, and biology subjects. Students with a minimum of 50% marks in such subjects can be admitted to MBBS in Georgia.
Good foreign faculty.
Approximately 50% off. international student travel.
Top Universities in Georgia for MBBS
Recognition of Georgia Medical Universities
The following accreditations recognize Georgian medical universities worldwide:
Eligibility Requirements for MBBS Admission in Georgia
All Indian students must meet the following MBBS admission requirements in Georgia:
The year the admission is taken the applicant must be 17 years plus as of that particular year's 31st December.
Students must have completed class 12 from a recognized board and have a qualified NEET test.
Some universities made it a mandatory requirement for students to clean IELTS / TOEFL with good ranking.
Universities that don't look for IELTS or TOEFL ratings, schedule student personal interviews.
To students in the general group, 50% aggregate marks in Physics, Chemistry, and Biology are required and they must also have English as a compulsory subject at 12th level of their education. SC / ST / OBC students must have 40% composite scores.
Admission Procedure to Study MBBS (Medicine) in Georgia
The procedure for admission to the course of MBBS in Georgia is very simple. Follow these simple steps to get to Georgia's best medical universities:
Students are required to fill out the online application form along with the required documents.
As soon as the university receives the application form, it issues a letter of offer. Students can deposit fees on the university's bank account.
The Ministry of Education and Science of Georgia shall issue a letter of accreditation to the students within 30 days of receiving a ministry order from the university and shall issue a letter of invitation to the students.
Once the procedure referred to above has been completed, it will take 30 days for the approval of the visa.
The departure process will be completed once the fees have been cleared.
MBBS Course Duration in Georgia
All medical universities in Georgia are given the same period for the MBBS course: it takes a total of six years, including 1 year of internship, to study medicine in Georgia.
MBBS in Georgia – Medium of Study
The Georgian Medical Universities MBBS course requires 6 years to complete:
The number of Georgian medical universities is recognized by the Medical Council of India & World Health Organization, which follows English as a study medium for the MBBS course.
Foreign students may benefit from engaging with professors, and faculties in English in every question.
MBBS Georgia is Safe for Indian Students
MBBS in Georgia is much safer than in any other country. According to the Global Peace Ranking, Georgia ranks 85th, while India ranks 141st and the USA ranks 103rd.
About Georgia
Georgia is a country situated in Eurasia's Caucasus zone or at Europe-Asia crossroads or intersections. Around 4 million people live in the country. Georgia's country is surrounded by North Russia, Turkey, and South Armenia. The black sea surrounds Georgia's western frontier. From the southeast, Azerbaijan borders the nation. Georgia's largest city, Tbilisi, is Georgia's capital. Georgian (national) and Abkhazian (Abkhazian) are Georgia's official languages. Mingrelian, Svan, and Bats are Georgia's known regional languages. Some of Europe's highest mountain tops, are in Georgia. The 'Caucasus Mountains' is Georgia's mountain range name. Mount Shkhara at 5,068 m is Georgia's highest peak. The Mtkvari is Georgia's largest channel, covering an area of 726 kilometres. Tbilisi city sits on the Mtkvari river banks. Georgia's 25,000 dams. Some UNESCO World Heritage Sites are in Georgia.
Send Enquiry

NEED HELP WITH ADMISSION?
Get free counselling sessions with us.
[iphorm id="1″ name="quick inquiry"]
Top Universities in Georgia for MBBS