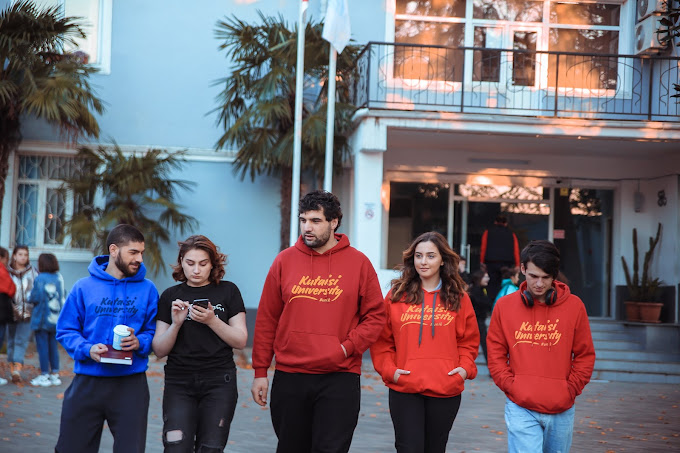 As an Indian student interested in pursuing MBBS in Georgia, you want to have all the necessary information in one place. At EUMBBS, we're here to help you navigate the admission process and make an informed decision about your education. Kutaisi University in Georgia is one of the top choices for students seeking a high-quality MBBS program, and we've put together all the information you need to know in one place.
About Kutaisi University
Kutaisi University is a private higher education institution located in the city of Kutaisi, the second-largest city in Georgia. It was founded in 1991 and offers a variety of educational programs, including the Bachelor, Master, and Doctoral programs. The university has two faculties: the Faculty of Medicine and the Faculty of Social Sciences, Business and Law, offering both Georgian and English-taught programs. The university has a reputation for providing high-quality education with international standards and practical-oriented teaching courses.
Location
Kutaisi is a beautiful and historic city located in western Georgia. It is known for its rich history, cultural heritage, and stunning natural scenery. The city is home to many landmarks, including the Bagrati Cathedral, Gelati Monastery, and the Prometheus Cave. Kutaisi is also the third-largest city in Georgia, making it a hub of cultural and economic activity.
Admission Criteria
To apply for MBBS at Kutaisi University, Indian students must have completed 12th standard with science subjects, including Biology, Physics, and Chemistry. They must have a minimum of 50% marks in their 12th standard examination, and they must be at least 17 years old. Students must also take and pass the NEET exam, and have a valid passport.
Fees for MBBS
The fees for MBBS at Kutaisi University are affordable and competitive, making it an attractive option for Indian students seeking quality education. At EUMBBS, we'll help you understand the breakdown of fees and guide you through the payment process.
UNIK – KUTAISI UNIVERSITY
Tuition Fee (SEMESTER WISE) IN USD / $
Hostel / MESS charges (Monthly)*
$2,000 USD
$250-$300 USD
Recognition and Affiliation
Kutaisi University is recognized by the Georgian Ministry of Education and Science and is accredited by the Georgian National Center for Education Quality Enhancement. The university is also a member of the European University Association, which is a testament to its commitment to providing high-quality education.
Kutaisi University has received recognition from several organizations including the National Center for Educational Quality Enhancement (NCEQE), the World Health Organization (WHO), the Foundation for Advancement of International Medical Education and Research (FAIMER), and the Educational Commission for Foreign Medical Graduates (ECFMG).
Moreover, as an Indian student pursuing an MBBS degree, it is essential to ensure that the university you choose is recognized by the Medical Council of India (MCI) or the National Medical Commission (NMC), which is the regulatory body for medical education in India. You will be pleased to know that Kutaisi University has received recognition from MCI/NMC, making it a viable option for Indian students seeking to study MBBS in Georgia.
University Ranking
Kutaisi University has a reputation for academic excellence and is consistently ranked among the top universities in Georgia. It has also been recognized by various international organizations for its commitment to quality education.
Curriculum
The MBBS curriculum at Kutaisi University is designed to provide students with a solid foundation in medical science and hands-on experience through clinical rotations. Students will learn from experienced faculty members who are committed to providing a world-class education. The curriculum is regularly updated to keep up with the latest advancements in the field.
Campus Facilities
Kutaisi University has state-of-the-art facilities, including modern classrooms, laboratories, and a well-stocked library. The campus also has comfortable dormitories for students, sports facilities, and a cafeteria serving a variety of cuisines.
Student Life
At Kutaisi University, Indian students will be part of a vibrant community of students from around the world. The university organizes various extracurricular activities, including cultural events, sports tournaments, and social gatherings. Kutaisi city also offers a range of entertainment options, from shopping malls to cinemas and restaurants.
We hope this information has been helpful in your search for a quality MBBS program in Georgia. At EUMBBS, we're here to help you every step of the way. Contact us for personalized guidance and assistance with the admission process.
Other Top Universities in Georgia for MBBS
Benefits of MBBS in Georgia
Top 10 safest countries in the world.
100% Visa Guarantee
Indian Food/Hostel available
Studying in the English language
WHO/MCI approved University
Higher Success in MCI/USMLE test
Send Enquiry

NEED HELP WITH ADMISSION?
Get free counselling sessions with us.